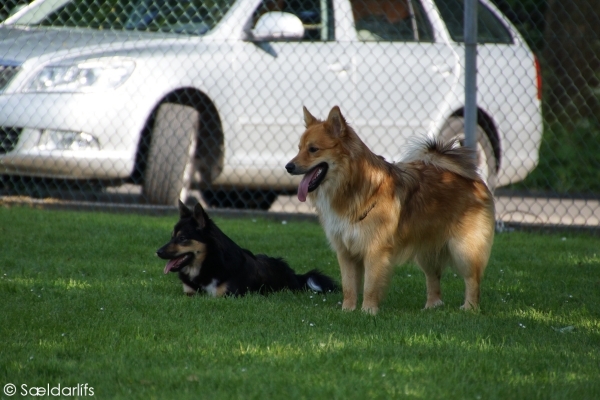 The exterior of the Icelandic Sheepdog has the characteristic features of the wellknown Spitz breeds: pricked ears and a curled tail.
It's a mediumsized dog, the ideal height for males is 46 cm and for females 42 cm. Seen from the side the dog is rectangular; the length of the body from the point of shoulder to point of buttock is greater than the height at withers. There is a marked difference in appearance between the sexes.
There are different types of coat, long, medium and short, all thick and extremely weatherproof, with full undercoat. The well haired curly tail is proudly carried on the back. All coatcolours are permitted, although one colour should be predominant. Black dogs should have white markings. White blazes and white markings on the chest, tip of the tail, legs and toes occur regularly.
The most common colours are tan, tan and grey, black and black, tan and white (tricolour).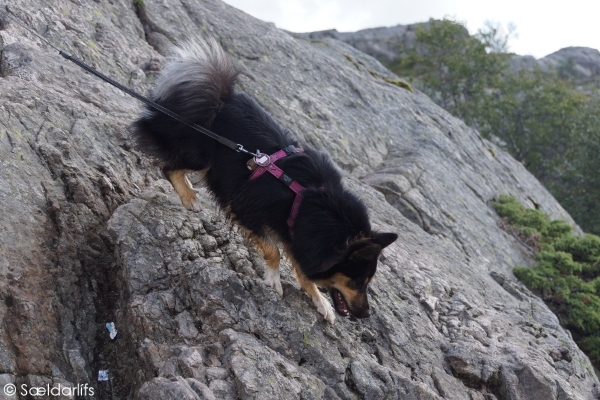 According to the breedstandard the Icelandic Sheepdog should have at least single dewclaws, but double are preferred. These dewclaws do have a function on Iceland; they give the dog a better grip on the slippery rocks and in the snow.
Movements are light, free and easy and show endurance.
To watch more pictures of Icelandic Sheepdogs: click here
More often people talk about the smile of the Icelandic Sheepdog. For more information about Icelandic Sheepdogs smiling: click here